Recently retired SFA School of Art faculty member, James Snyder, has specialized in jewelry and metalsmithing for over 37 years. In addition to highlighting his achievments in jewelry, this retrospective will also present a selection of his portraits and watercolor landscapes.
(Opening reception on April 4 at 6 p.m.)
Gallery Hours Tuesday - Sunday 12:30 p.m. - 5 p.m.
© 2007 Snyder Art Works.com, All Rights Reserved.
All art work is copyrighted by individual artist.
Images may not be downloaded printed or reproduced without artist permission.
Music in the Gallery, provided by Cowboy Walk Productions
Website Designed by Monster EFX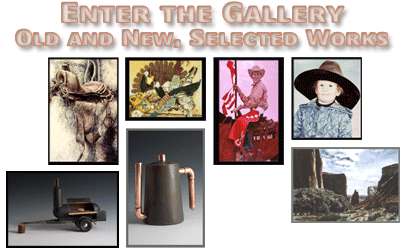 Sponsored in part by Texas Commission on the Arts

Nacogdoches Junior Forum and SFA Friends of the Arts.

Paint for the gallery generously provided by Sherwin Williams.